Galt Strategies was able to take the pest control company from 2 million in gross sales to 18 million in gross sales annually within 12 months. They did this by optimizing service and growth strategies and coming alongside the owner and implementing them. This led to the pest company's acquisition by a Fortune 500 company.
Company Beginning Numbers: Year 1
2 million in annual gross sales
Problem:
Company wanted a Reliable and Consistent lead flow and to increase their annual revenue to 3 million.
Solution:
To come alongside the Company and launch multiple marketing campaigns plus establish and implement growth plan.
Results:
Year 2
18 million in annual gross sales
2010 - 2013
Sales Flatlining
Profit Margins Narrowing
Advertising Less Effective
Former Licensee Competing
Something had to change..and fast!
DFW Challenges
Options Considered or Tried
Sell
No Profit = No Good Offers
Self Employed Job
Invest More Money
No Profit = No Investors
Expand Offering…
Eco-Wise
CC Home Services
Stretch Too Thin = Low Profit Margins
Marketing was NOT working
DFW Ad Budget Increasing - Results NOT There
Turned to CC/Culver for some assistance
Threw out what we had…
Started new based up ROI history
Experienced early success w/ PPC & Door Hangers
Now the question became…how and who do I turn to take it to the next level?
CC Recommended finding a Local Marketing Company
Many interview's and meetings lead to
More than a marketing company - Galt is a Turnaround Consulting firm excelling in home service industries. (ex: Locksmith, Security Monitoring, Window Cleaning)
Built a proprietary system within my Critter Control business…promising a big upside!
Galt Built & implemented the four steps that have to work in unison to achieve high profit.


1. Advertising/Lead Gen
2. Phone/ Appt Setting
3. On Site Selling
4. Servicing
2012
1,369,611
204,00
15%
Gain: 1,096,000
2013
5,700,000
1,300,000
23%
Up: 537%
Total advertising spend in 2012 = 15.8%.
(Spent 8.3% more on advertising & made $4,330,389 less)
Total advertising spend in 2013 = 7.5%.
(PPC, phone-books, and Door hangers)
Life Time Value of a Customer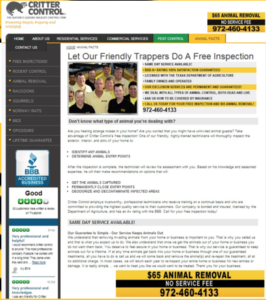 Great Reviews /Happy Customers 
= Organic Growth
Each Crew $7- $10k/ Day
1 Crew…3 Jobs wk… $1,092,000 Yr.
1 Crew…5 Jobs wk… $1,820,000 Yr.
DFW TODAY - 5 Crews /35 jobs Week $12,000,000 YR
REPLICATE THIS SUCCESS IN EXSITING CRITTER CONTROL MARKETS
Proof of Concept is in place
Share with other Critter Control Franchisees
Plug & Play System
Summary
Business Standpoint
Real growth producing Big profits
Employee Benefits
Increased Valuation of my business
Nice lead on local competition
Personal Standpoint
More personal & family time
More to Give Back
My Experience with Galt
Ethical
Galt held back fees to promote company growth
Galt has the owner's best interests at heart
Galt became a part of my company
Hands On
Galt works with your company on a daily basis & in every area of your company to implement processes.
They don't just hand you a report
Riding with techs
Working in every department
Friendly
Galt Partnered with me and built a relationship
Mentoring
Galt Mentored myself and upper management
Charitable
Each month one job is completed free of charge as
an act of charity.
With the Galt System in place the company runs itself
Days in the office per week = 0
and my wife and I are free to travel the world.
This year we're scheduled to visit Ireland & France